Friday, November 10, 2023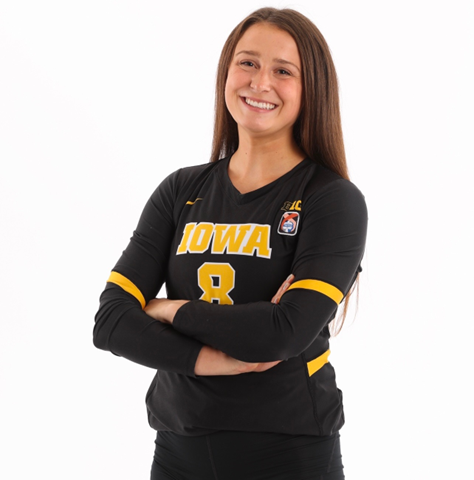 Anna Davis, who received a CS BA in Spring 2023, is a 1st year graduate student working toward a Master's in Computer Science (MCS) at the University of Iowa and a volleyball player for the Hawkeyes. In this Q&A, Davis discusses her research and the advantages of pursuing both her academic and athletic goals.  
What led you to choose computer science/informatics? Did you have any experiences in high school that led you to picking this major? 
I chose computer science because I love how hands on it is. It is driven by logic and analysis and problem solving, and I found challenges like that exciting. To be honest, I knew I didn't want to spend all of college reading books and writing essays. Computer science is more about application and problem solving, and I knew I wanted to do something like that.  
Have you engaged in any research and/or internships during your time at Iowa? 
For the last two semesters, I have worked on a research project with Professor Shastri. We have been studying the GDPR and how it practically is applied in regards to computer science. We are looking into different ways companies can be in compliance with the law without incurring extreme costs. Additionally, I had an internship this past summer that I am also excited to continue next summer at a sports video analysis company called Hudl. I worked as a quality assurance intern this past summer and wrote automated tests to verify that updates in the products didn't break the system. This next summer I will be stepping into more of a software engineering role.
How do you balance the demanding schedule of athletics along with your coursework? 
My keys to balancing a busy schedule is planning it out, organizing my day, and prioritizing things that need to be done. I do have a very busy schedule, but it is manageable when I'm efficient with my time and know what I need to get done and when I have time to do it. Additionally, I've been very lucky to have professors that are willing to accommodate my schedule and work around different restrictions to help me understand the content.
What's the hardest part of being a student-athlete? 
The hardest part of being a student athlete is balancing all aspects of life. Volleyball and school are both very demanding, and I always want to achieve my best in all aspects. Additionally, I need to take care of my relational, emotional, and mental health along with these other things. It can be hard to find a balance where I can perform optimally and give my best to what I'm doing but not let one aspect slip and lose priority. Life is meant to be filled with so many amazing things and sometimes I have to reassess and slow down to reset the balance of all that is going on in life.
On the other hand, do you see any overlap (e.g., dedication; work ethic) or even advantages to pursuing both academic and athletic goals? 
I see a lot of overlap between these two things. Growing up, I was always told the only two things I can control in life are my attitude and my effort. This means giving my best to all I do in the classroom and on the court. By being able to do these things in two different settings has also helped me grow other skills of hard work, discipline, organization, and problem solving. I have learned great time management and communication skills from both. I'm grateful to be able to pursue both and learn from all the lessons they have taught me along the way.
What advice do you have for future student-athletes? 
One of the biggest things I recommend for everyone is to use your resources. Our professors are here to help us and they want to see us succeed. This means ask questions in class, go to office hours, email them, and stay engaged. Other great resources in the classroom are classmates. It has always been beneficial for me to walk and learn alongside other people, so we can help deepen each other's understanding and bounce ideas off of each other. Another piece of advice, is to take a deep breath and enjoy the moment you are in. College is such a short part of our life journey and there can be a lot of stress and worry, but there's also so much beauty and joy. These four plus years are for us to grow and learn and that process is fun, so don't forget the joy amidst everything else.
What is your favorite class in the CS department? 
My favorite class in the CS department would be a three-way tie between Intro to Software Development, Computer Organization, and Programming Language Concepts. I like them all for different reasons, but they all challenged me to think in different ways and pushed me to really appreciate computer science so much more.
In the future, what do you hope to achieve with your degree? 
After I graduate, I hope to be a software developer at a major technology company and continue growing my knowledge and skill base as I make an impact in the world.