Friday, November 17, 2023
In October, members from the University of Iowa Women in Computing Sciences (WiCS) traveled to Lenexa, Kansas to attend the 2023 Minnesota, Iowa, Nebraska, and Kansas Women in Computing conference (MINK WiC).
The bi-annual event brought students, faculty, and technological leaders from across the four states together to discuss the role of women in today's computing and technology fields. Over the course of two days, conference participants heard from keynote speakers, asked questions at panels, joined workshops, viewed research presentations, and met with employers at a career fair.
For Iowa's WiCS, the conference served as an empowering reminder of the strength of those typically underrepresented in computing.  
According to the U.S. Department of Labor's Women's Bureau, the percentage of women working in STEM has gradually increased from 1970 to 2021 in nearly all fields except for one: computer occupations. In 1990, 34% of workers in computer science careers identified as female. The department's most recent data from 2021 indicates that the percentage of female professionals in the industry has since decreased to 24%.
WiCS President Isabelle Paulsen said it was comforting to be surrounded by so many other females interested in computer science.
"It just felt like a safe place," Paulsen said. "I asked a question on a microphone, which I would never do. Hearing my own voice on a mic in a big room was fine because it was all people just like me, which is really cool."
Paulsen said she has felt intimidated to raise her hand or speak in class when there is a disproportionate number of male students.  
"A lot of the guys, I noticed, will really confidently say wrong answers and they're allowed to fail," Paulsen said. "I think that as women, we've been taught our whole lives that we don't do anything unless we're going to do it right."
Paulsen appreciated having the space to connect with other women in computing who have had similar experiences.
"I think it's important to know we're not alone," Paulsen said. "Having people to talk about struggles in our classes that they might also face and knowing that we're all in the same boat is just really valuable."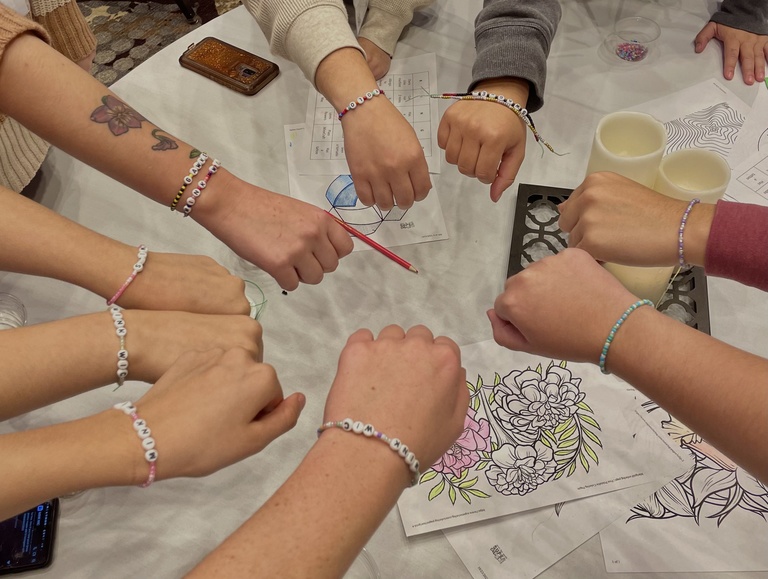 Community is a major aspect of MINK WiC. Paulsen, alongside WiCS Vice President Annalisa Karacay, served as the Student Social Chairs of the conference. Together, they organized a casual event where individuals could get to know one another and make friendship bracelets to commemorate the weekend.
"It was rewarding to put together a fun activity for everyone, and we spent a lot of time together as a group," Karacay said. "We got to know each other a lot better, which made the experience even more enjoyable."
Networking wasn't the only highlight for those at the conference. MINK WiC offered several different panels and workshops, ranging from discussing ChatGPT to learning how to make a code portfolio on GitHub. Dr. Elizabeth Kleiman, the director of undergraduate studies in the University of Iowa's Department of Computer Science, is one of the main committee chairs of the conference. Kleiman moderated a series of "Lightning Talks" –short presentations for professionals to share their research and insights on working in computer science– and hosted a panel on imposter syndrome. Kleiman also gave a TechTalk, in which she spoke about the importance of interdisciplinary computing.
Kleiman said she was glad to be with so many students from the University of Iowa at MINK WiC. While most students in computer science do not go to conferences until they pursue a graduate-level degree, many of the attendees from Iowa at MINK WiC were undergraduates.
Kleiman said she hopes MINK WiC encouraged those who are underrepresented in computer science to feel the sense of belonging they deserve in the field.
"We want people to stay," Kleiman said. "If you made it here, you definitely can continue."
Women in Computing Sciences, or WiCS, is open to any student who identifies as a gender minority at the University of Iowa. At least once a month, the group meets to hear from speakers, participate in career-building workshops, and engage in social events. More information about WiCS can be found on their website and on Instagram, @uiowawics.
"My advice for women pursing computing is to stay committed. Computer Science classes can be incredibly challenging, and at times, it might feel isolating. In a predominantly male-dominated field, you may often find yourself in situations where you feel like you don't have as many people to lean on for support and like you are falling behind everyone else. As you progress, you will have a lot of opportunities to meet other women whom you can lean on for guidance, support, and mentorship." 

–Annalisa Karacay, Iowa WiCS Vice President